I love this line from Bridget Jones Diary – her attitude towards a total kick in the teeth is what is inspiring me this evening. I am down but I am no way out. My problem is not man related like Bridget's. Mr Pud is such a good egg, I am a lucky girl. But as Bridget also says
This is the final straw, the one that has broken this Mama's back. It is time to stop being a victim. Time to stand up and flick a V sign. I am sick and tired of being kicked like a puppy. I am not a puppy, I am a bloody lioness.
Yes today was; as is so eloquently put by Rachel in Friends: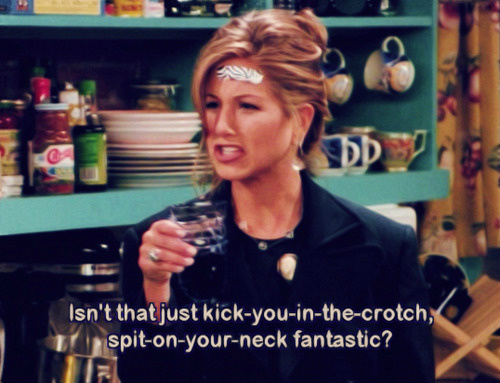 You see today was the culmination of everything I have worked towards being stuck in a blender. Never have I been more demoralised. I can't give you the details here – I wish I could. Just know that at this point I have to believe that everything happens for a reason.
Tomorrow is a new day. Tomorrow I am standing up and saying STOP. No more meek acceptance of things that are fundamentally wrong. A life that is damaging my family. To hell with this.
A monster was created today. Granted she is a wounded, slightly beat up monster, but that is what makes her more dangerous. A flicker of burning passion, currently fuelled by a cold hard rage is coursing through my veins. This time I won't be put off, this time I will strive to achieve my potential.
In a time of rising discontent in so many. In a world where racists and fascists are starting to impact on our very civilisation I can no longer sit back and let the injustices lie. If I can't fight for myself, how can I fight for my children and for those who are unable to fight for themselves.
This Mama bear has a plan, a goal and by hook or by crook this time I will succeed. Even if I do need to channel my inner Bridget Jones!