#EatSleepBlogRt is back! Apologies for late comments and tweets this week, I have been very poorly so blogging has not been top of my list…. I will make sure I am on it this week! I will catch up on all owed comments and tweets ASAP, can't wait to see what you guys have written. In other news Pudding is one on Friday and I have no idea where this year has gone 😳 and Christmas is less than two weeks away. Don't forget that next week will be the last #EatSleepBlogRT until the New Year.
Pop over to Catie's page to see her top post. I will be updating my page in a while once I have completed my commenting – I will tweet my Top Post so the person doesn't miss out on their badge.
Our amazing Top Tweeters this week were @heatherkeets, @buzymumsonia & @lisapomerantz – Grab yourself a badge each ladies you are a Tweeting Stars!
Get yourselves linked up and rest assured I will be getting to all those comments!
Big Loves
Zoe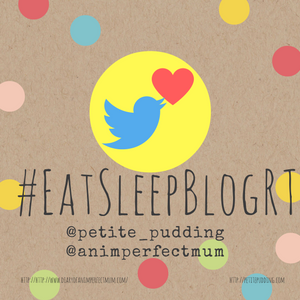 Linky Rules
You can link 2 post – all subjects welcome
Linky runs from

8pm

Sunday

until

8pm

Tuesday

.
Please put our lovely badge on so that we can show off its fabulous design!
Comment on the post before yours.
Retweet at least 5 posts on twitter using the #EatSleepBlogRT hashtag (including the hosts posts)
Hosts will retweet when you link up (if you tag us in your tweet) and when we comment.
We will pick one post each week as our featured post
A Host will comment on all posts linked up.
Simple right? Lets get out there and set the Twitter world alight with our blog sharing!