Welcome back to Week 7 of #EatSleepBlogRT, this was our best week ever with 49 posts! Don't forget this is the retweet linky so make sure you are sharing all the other fabulous blog posts over Twitter! My lovely co-host has decided that due to family and work she will no longer be able to host 😔 so this week it is me and Becky from Sparkly Mummy!
I am still working my way through the commenting and retweeting, please accept my apologies if I have not got to you yet, I have been on a run of night shifts! Rachel has done a fantastic job of reading, commenting and retweeting. She has chosen Right Royal Mothers post about returning to work with her fantastic infographic. If you didn't get chance to read this post you can have a look here. Grab yourself a featured badge lovely.
Our Top Retweeter this week was @katcandyfloss can anyone steal her retweeting crown??? Please grab the Top Tweeter badge and thank you for your amazing blog sharing!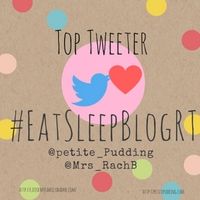 This week I am linking up my post about how hard it is to admit to yourself and others that things are not going so great after the birth of your baby. I was very lucky to be front page on Mumsnet with this post earlier in the week and would love to hear what you think.
My run of night shifts continues until Monday (boo) so I won't be so quick on the retweets this week but I promise I will retweet every thing that I have been tagged in. I would just like to say thanks to all that are making this such a great linky and am sorry my hosting skills are a bit hit and miss this week.
Love Zoe
x
---
#eatsleepblogrt
Welcome to the #EatSleepBlogRT linky! We know there are loads of linky's out there so we have designed this one to help drive more traffic to your blog by asking people to retweet posts on Twitter as well as to comment. As hosts we will retweet your blog when you link up and when we comment. So that is 4 retweets already! Sharing is caring so the more retweets you do the better. The person with the most shares on social media will also get a backlink the following week as well as our favourite post.
Linky Rules
You can link up to 2 posts – old or new of any subject. Please only link one review/giveaway each week.
Linky runs 8pm Sunday – Tuesday 8pm
Please put our lovely badge on so that we can show off its fabulous design!
Comment on at least two posts (they don't have to be the hosts post but we always love it when you do!)
hosts will comment on all the posts linked up by the following week (if we are a bit slow some weeks, bare with us we are busy ladies, we will get there I promise!)
Please retweet at least 3 posts on twitter using the #EatSleepBlogRT hashtag (if you don't use the tag we won't know who was the most sharing caring person!)
Hosts will retweet when you link up and when we comment. We will also retweet if you tag us in the posts you retweet (crikey thats a lot of retweets!)
We will pick one post each week as our featured post
The person who retweets the most will also get featured with a back link
Tag @petite_pudding & @sparkly_mummy when you link up
So their you have it – simple right? Lets get out there and set the Twitter world alight with our blog sharing!